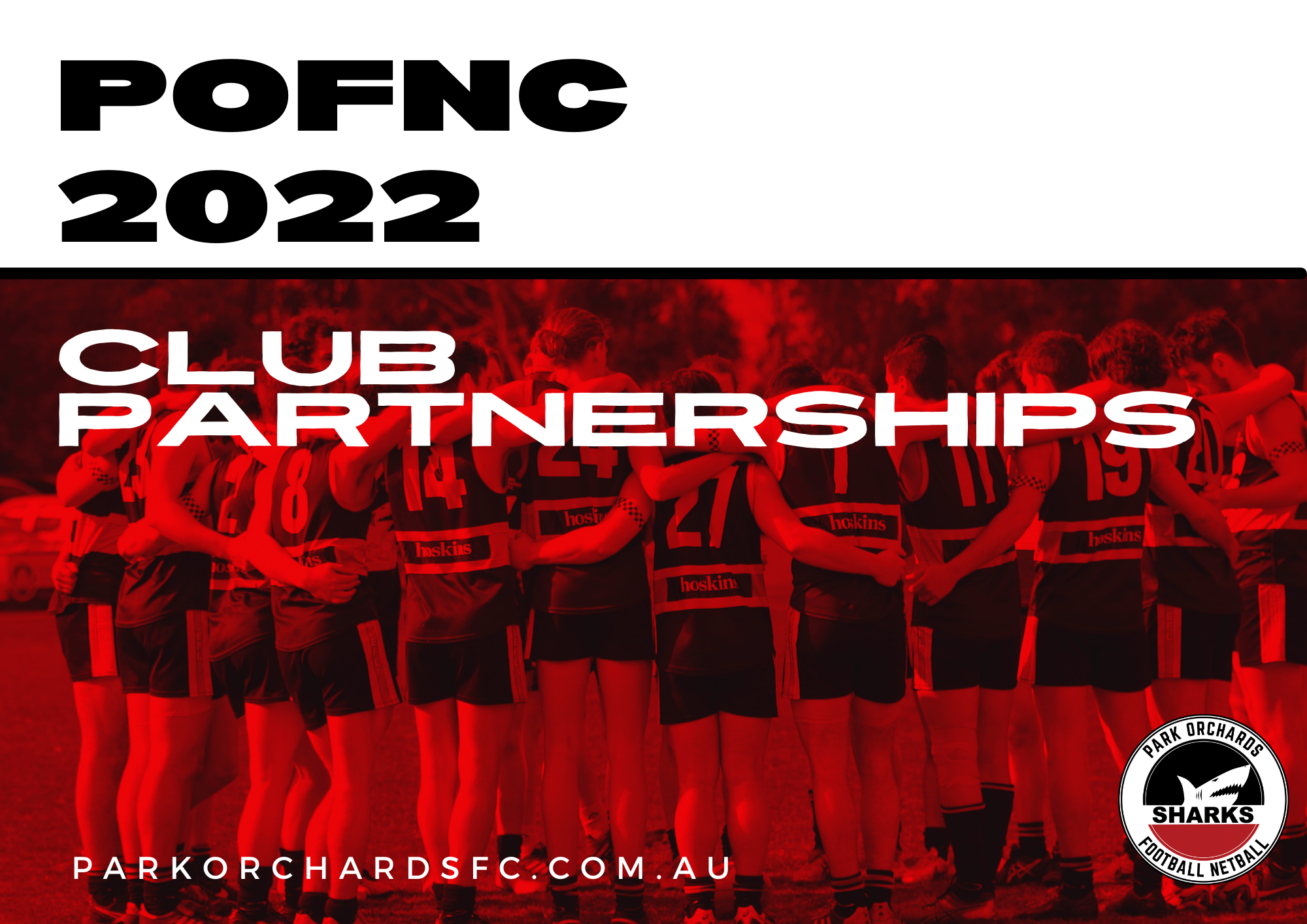 A little about ourselves
The Park Orchards Football Netball Club is one of the leading and fastest-growing clubs in the eastern suburbs despite only being 11 years old. In that time, we have moved up from EFNL Division 4 to Premier Division boasting 1 x Senior men's premiership (Plus the minor premiership in 2021), 3 x Reserve grade premierships Plus the minor premiership in 2021 and 8 x U19 premierships.
Proudly we provide a pathway for our junior club footballers and our local community and average around 75% ' homegrown' former junior club players playing in our senior team each week.
In 2022 we will be fielding Senior, Reserves & U19 men's football teams, 4 netball teams and a Senior Women's Football team, boasting more than 200 engaged players, members and supporters.
Season 2022
Like most businesses and sporting clubs, 2021 presented huge challenges. I am sure you were not immune. For our Club, the positive was an opportunity to embrace our community and assist in seeing everyone through the year safely. This is something that was extremely important to us as a Club.
However, the Covid lockdown also delayed the commencement of works to renovate our social rooms and change rooms. Along with council funding, each of the 3 tenant clubs (including our own) must contribute towards these works.
Whilst we are very pleased with these works are now complete and we have arguably one of the best club rooms in the EFNL, however, we were not able to capitalise on our new rooms once season 2021 was cancelled.
We are now excited and looking forward to one of the biggest upcoming seasons in our club's history as we enter the top flight Premier Division. With this comes some very big challenges that we are ready to tackle head-on, but this is also where we need your partnership!
An Opportunity for Your Business & Our Club
We truly believe our Club is the perfect avenue for you to establish a strong advertising foothold across Park Orchards and surrounding suburbs.
The coming year will present a significant Partnership opportunity for you as our community embraces local sport once again in what will be a renewed and re-energised 2022. With the current expansion and renovation of our clubrooms at Domeney Reserve now complete, we expect greater community support and larger spectator attendance in the coming season. Further, the establishment of our new internet portal, the Shark Net, will provide greater advertising exposure to a large number of local households.
Our Partnership Packages provide benefits to you through:
Brand Exposure

Promotional Activities

Networking
We have a range of packages to suit every budget and have the capacity to tailor-make any advertising package to address your particular needs.
Attached to this letter are more details of this package together with more extensive packages to suit your needs if appropriate.
We look forward to receiving your support and would welcome the opportunity to discuss any aspect with you.